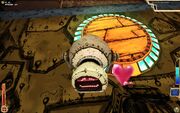 Hugbots are the only non-threatening entity in the Tower.  They are found in the entry room of the Foyer, and in the end room of every floor.
Killing Hugbots will increase the difficulty level by 1 (Initial difficulty is 100)
Joe originally did not plan to include Hugbots in the final version, but his wife liked them so much, he just had to keep them.
If no hugbots are killed during a run an extra level called the "Hugbot Alley" may be added between the third level and Logistics. The level is non-threatening and can net you coins, badges or weapon energy if you choose to kill the large number of hugbots inside. It is also guaranteed to contain either a gun, the Captain's Belt or a Togatroopa wing as well as a few random pickups.